Containers Tracking Terminal
What are GPS trackers for containers?
GPS trackers are cost-effective devices offer an efficient way to locate your shipping containers in real time, ensure cargo security, reduce loss, and increase revenue.
Discreet, magnetic, compact solar-powered and battery-powered assets GPS tracking deivces can be attrached to your cargo containers easily and quickly. Once installed, they use the Global Positioning System to determine real-time GPS location.Typically, they transmit data to your asset tracking software via 4G LTE cellular network connectivity, providing remote visibility for fleet managers.
What is the best GPS container tracking solution?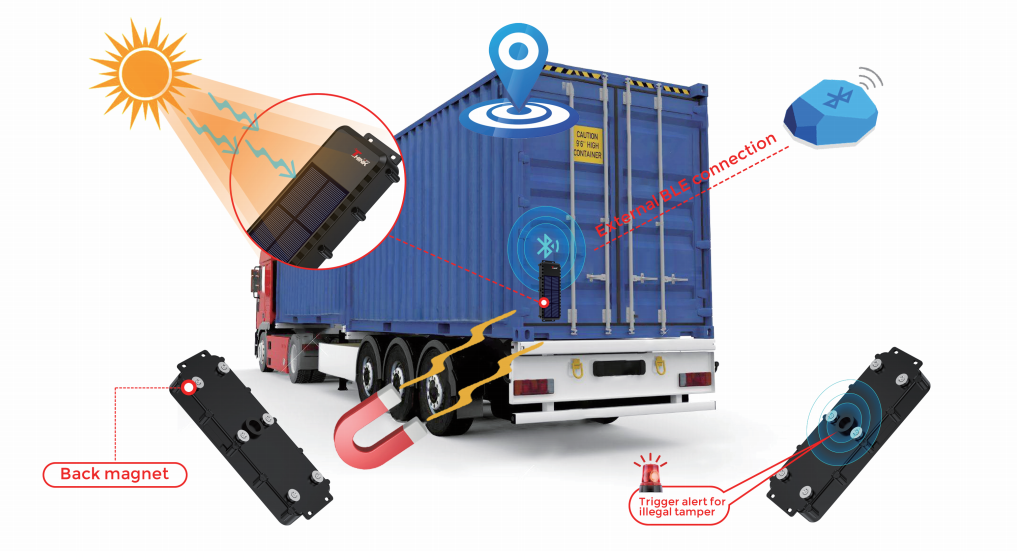 Here are a few reasons why TL-904D is a great choice for any business in need of GPS container tracking.

4G CAT M1 NB1 Network:
4G CAT M1 NB1 network is suitd for multiple connected operations, with solutions for not just overland shipping conatiners, but also moving assets like trailers,rental vehicles and heavy-duty equipment thanks to its features of low-power consumption, low network cost, fast data loading speed.
Reliable GPS LBS positioning data with customizable report intervals:
TL-904D conatiners tracking solution offers customers the ability to check in real-time data. This real-time tracking can be incredibly valuable in case of a misplaced container or theft. And with customizable report intervals, fleet managers have the flexibility to have either real-time location or be alerted at specific intervals.
Ultra long battery life & additional solar battery supply:
Battery life is incredibly important when choosing an asset tracking solution, TL-904D comes with 10000mAh high capacity battery, which enables up to 3 years of battery-powered operation. And with efficient solar panel, the service life of the device even longer.
All-around assets safety protection:
Customized geofences makes it possible to be alerts if a shipping conatiner unexpectedly leaves a geofenced area. This can be particularly helpful for detecting theft or unauthorized use and enhaching cargo security.What' more, with light sensor on the back of the device adds extra protection to your containers by sending illegal tamper alarm and container location information to you immediately if by some misfortune the device is illegaly dismantled from your container.
Powerful, cloud-based software:
Think power's asset tracking software offers powerful and user-freindly web-based software, enabling you to saty connected to your most valuable resources anytime, anywhere.
Easy Installation:
With strong magnets, TL-904D asset tracking device can be installed on any asset in a second without any damage.
Ruggedized design:
With IP67 water-resistant design, TL-904D tracking device ensures stable operation in tough environment.



TL-904D as a Bluetooth Gate way
Unlike many asset tracking devices that only play a simple role in tracking
assets' location,TL-904D is also a mobile bluetooth gate way. which can collect data from external Bluetooth sensors(like wireless door sensor, temperature&humidty sensor) through BLE5.0 interface.It combines external data with location information and send them to the server.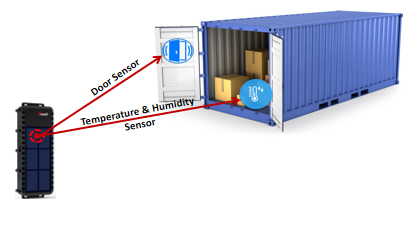 Benefits of a GPS container tracking system
Reduce management cost:
With a real time GPS tracker, you gain complete visibility into the locations of your shipping containers in real-time.You can schedule and control your fleets timely, reducing administrative overhead and save valuable time for your business.
Reduce the Risks of loss and theif:
With the ability to create customized reports intervals you can easily learn about the whereabout of your conatiners, and geofence function can help set safe zones for your containers where they're supposed to be. A light sensor on the back of the device adds extra protection to your containers. These reduce the risks of conatiners loss and theif.
Increase revenue:
With GPS tracking, shippers can provide more accurate information to their clients on the exact location of containers. Not only can this help you improve ETA predictability and increase customer satisfaction—it can also serve as a competitive advantage to help you win new clients by setting you apart as a tech-forward business.