How is GPS used in agriculture ?
Agriculture is on the verge of a major transformation - and this new age has telematics and GPS tracking technology front and centre. Let's explore how Think Power GPS tracking solutions keep farming and agriculture fleet, machinery and produce safe, productive and efficient.


Track farm equipment to increase operation efficiency
Do you wish to monitor their usage, location and condition from the comfort of home? If yes, Think Power's TE-604C Model GPS hardware can help you control your machines in real time, plan your routes, control agricultural vehicle in real time, monitor fuel level and do lot more to ensure efficient use of your agricultural machines through rich interface and Bluetooth technology.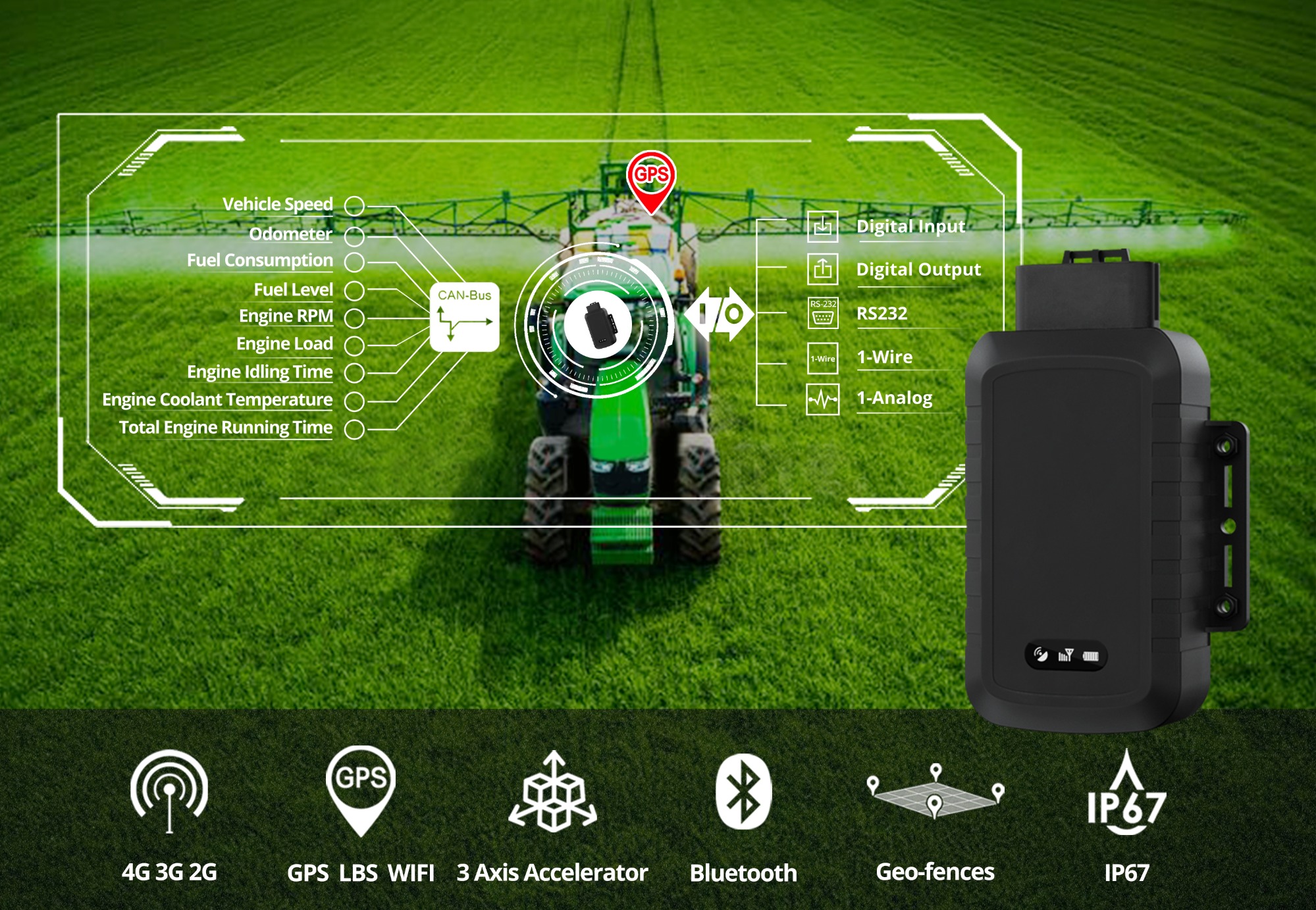 In agriculture, GPS tracking device can sample up and transmit multiple GPS data points to improve location accuracy and determine operational details including cultivation, fertilization and harvesting.
Engine Control of Machinery
Thanks to the combination of GPS tracker and relay, you can ensure the security of agricultural vehicles. If theft occurs, you can prevent machinery theft by control vehicle engine remotely and have a much greater chance of finding the lost property.
Geo-fences create virtual boundaries around key locations and identify agricultural operational objectives in different target areas. It can also isolate target areas where farms animals might graze to prevent accidents or harms to livestock and humans.
The extend functions of device are multiple with features rich interface including digital input, digital output, 1-wire, 1-analog, RS232. In farm vehicles application, GPS tracking devices with RFID technology make it easy to identify workers' information such as working shift, working hours,etc.
Do you want to have an idea of the actual operation data of your farm machinery? Such as fuel consumption,mileage, vehicle speed, engine idling speed, engine running time etc. A CANBUS data logging GPS tracker enables you to obtain these data to analyze the operational status and efficiency of your agricultural machinery and take immediate action to maintain your equipment in time.
Generally, vehicles with supply voltage higher than 72V are special service vehicles. The instantaneous voltage of vehicle vehicle ignition may be higher than 80V. In order to prevent the impact of surge on equipment components, Think Power has made the corresponding development. TE-604C J1939 protocol CAN data logging device is safe for use commercial special vehicles use under 9~75V.

Integrate solution from farm to gate for produce delivery safety
For agricultural transportation, grains assets tracking and condition monitoring are critical to ensure real-time visibility into the state and locations of agricultural produces. Agricultural transportation management solution isn't limited to location tracking and mapping, ThinkPower's intelligent tracking system allows to combine assets location tracking with more complex and specific use cases including condition monitoring of grains transportation to guard against spoilage and ensure produces get to destination under good condition.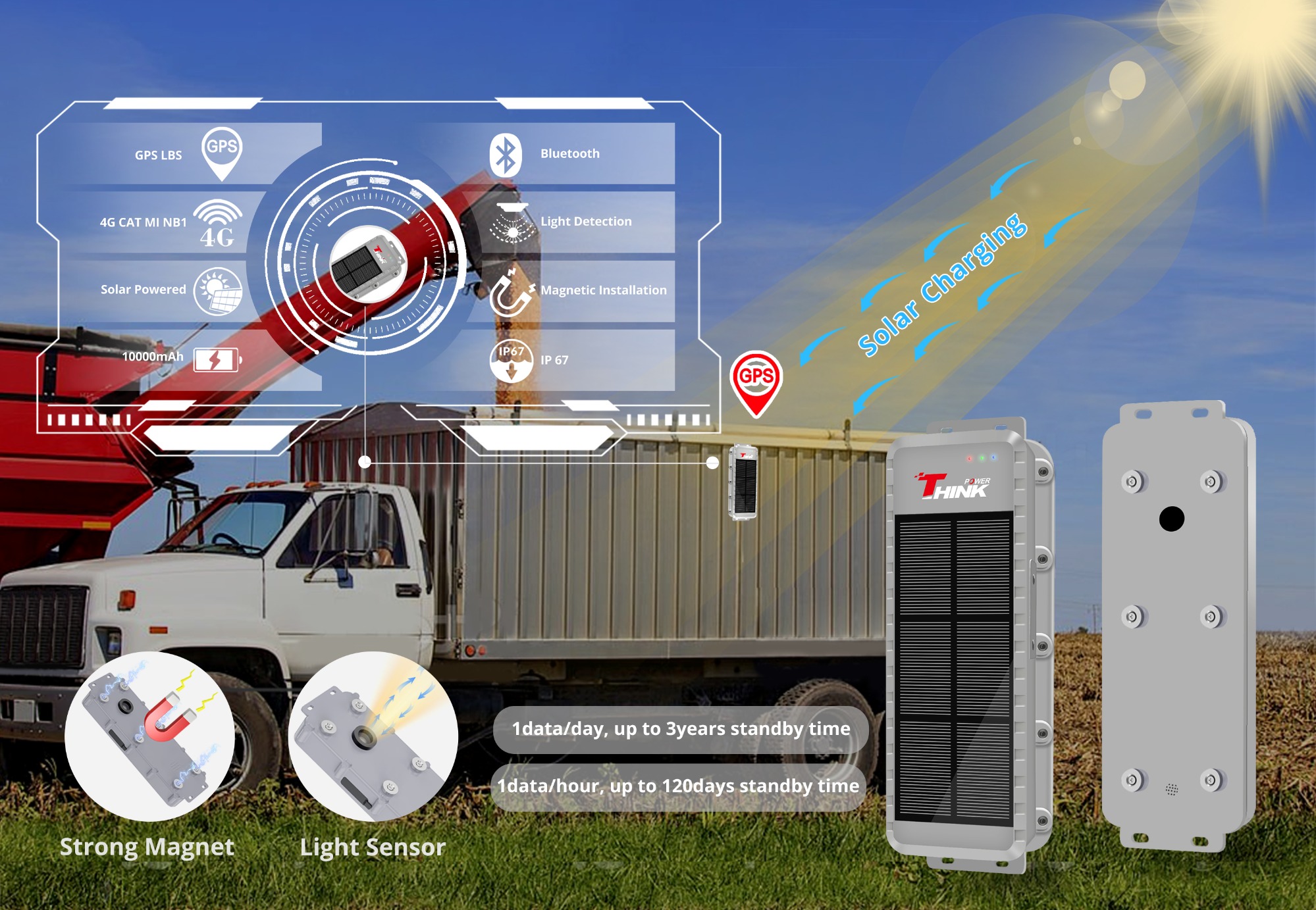 Robust GPS location units should be built to work in a range of harsh transportation environment. TL-904D is a perfect unit made of aluminum alloy material that resistant to high temperature, moisture(IP 67 waterproof design), strong collision and impact.
A long battery life GPS device can reduce the unnecessary manpower work caused by the frequent disassembly and installation for low battery devices charging. The standby time of TL-904D is up to 3 years under 1data/day report interval.
Solar Charging Supportive
Featured with solar charging function, theoretically this device can store up to 920mAh of battery power with 4~8 hours solar charging.
Temperature&Humidity Monitoring
Temperature and humidity monitoring plays a decisive role in agricultural produce safety. The accuracy of temperature&humidity sensor provided by Think Power is ± 0.2℃(0~60℃)in temperature and ± 2% RH(10%~90%)in humidity, which ensures grains condition under control.
The application of door sensor can monitor or even prevent the theft of grains in transportation. When the grain container door is opened, the door sensor will sense the door opening behavior and alert.
If GPS hardware can't be always mounted on the tracking farms assets securely, your assets would be at risks of theft. With this in mind, Think Power developed light detection function which can trigger alert by light sensing if the device is dismantled.
Optional strong magnets accessories helps place GPS devices on target assets easily like equipment, produce containers, grains trailers, farm tools.



Contact us to learn more about how our GPS hardware solutions can help improve your agricultural and farming business.