How to manage the vehicles and drivers of a commercial fleet is very important for every company, especially considering the possibility of accidents, employee injuries, liability issues, and the possibility of increased costs related to vehicle maintenance, all of which are worth every manager To think.
Your fleet (whether it is a few cars or dozens of commercial vehicles) plays an important role in the success of your company.
Therefore, a proactive approach to fleet management is essential.
To help achieve this goal, many companies have begun to equip their vehicles with equipment called telematics.
These devices can help reduce many fleet risks, improve efficiency and promote safe driving behavior.
Telematics
Vehicle Telematics is a form of vehicle software that combines the functions of telecommunications and informatics to help employers effectively manage and monitor their fleets. The software runs by connecting to telematics equipment installed in the vehicle, including GPS technology, sensors, mobile applications, driving recorders, and vehicle engine diagnostic solutions.
Telematics can be used for a variety of different commercial vehicles, including automobiles, trucks, tractor-trailers, buses, and heavy equipment. Many employers use this technology to monitor vehicle delivery, determine routes, communicate with drivers, review employee driving habits, and detect vehicle maintenance issues.
Think Power's Solutions
Think Power is committed to the research and development and production of telematics technology hardware.
The TE-334 and TE-604C series products developed by Think Power, based on stable communication module and positioning module technology, have built a wealth of digital and analog interfaces, which can be applied to various complex scenarios and applications of commercial fleets
Common data collected by current equipment that can assist fleet managers to include:
a. Vehicle location information (GPS WIFI LBS)
b. 3-axis sensor
c. Multi-interface design (DIN, DOUT, RS232, 1-Wire, 1-analog)
d. The stable working voltage design of 9-72V can adapt to the working demand of commercial vehicles
e. Built-in Bluetooth module for multi-application expansion
f. Hardware dustproof and waterproof grade IP67
g. Commercial vehicle CAN-BUS data: vehicle speed, engine speed, oil level, mileage, water temperature
h. FOTA/OTA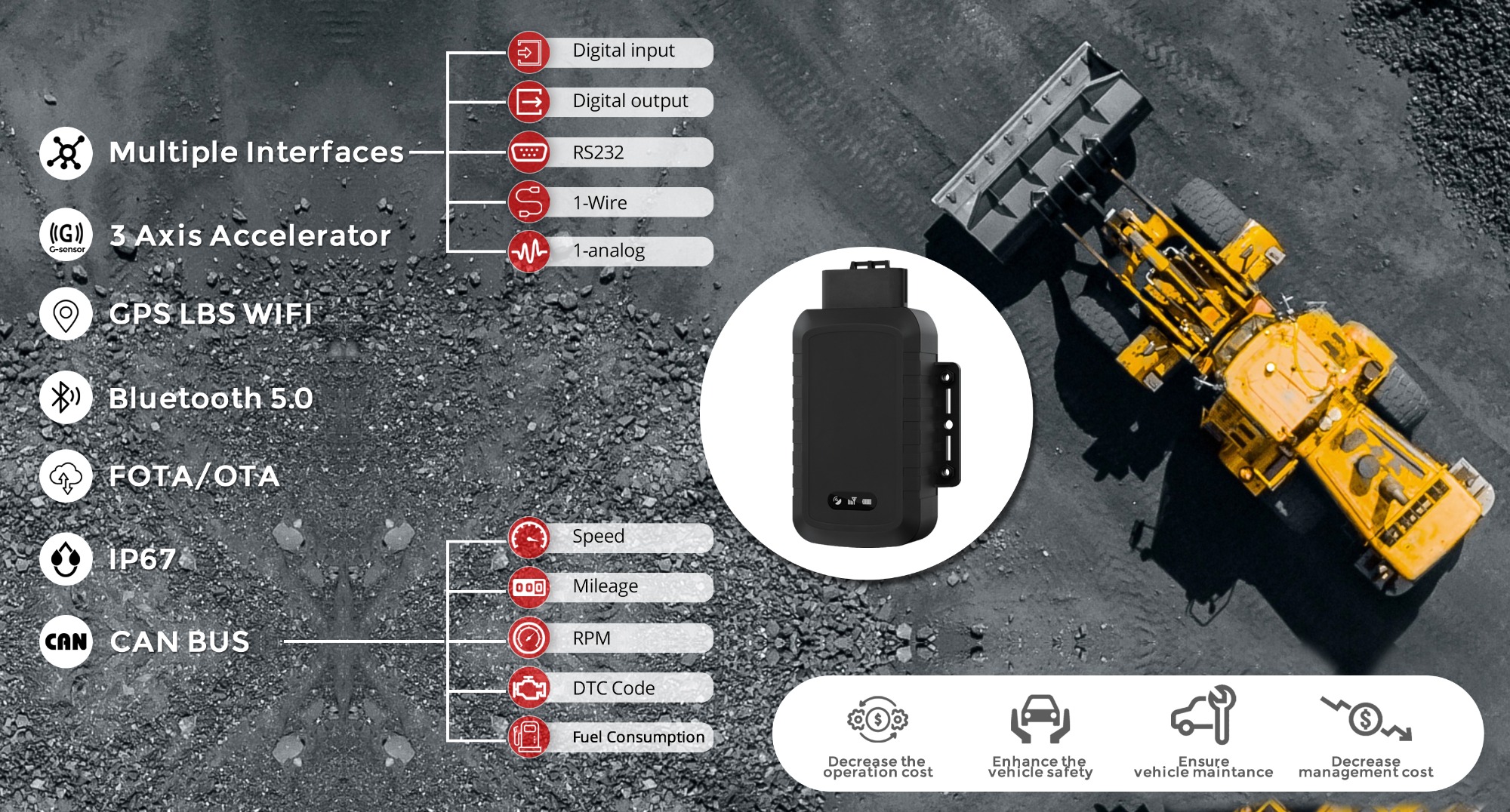 Why does your fleet need telematics?
Using telematics software can benefit your fleet in the following ways:
Reduce operating costs----telematics software can help drivers understand impending traffic problems or road hazards in a timely manner, provide diversion options, avoid accident areas, and choose the best route-all of which help maximize improvement Fuel efficiency and reduce operating costs.
Enhancing fleet safety----thanks to advanced tracking and communication capabilities, telematics software can also help ensure that your fleet is safe and reliable in emergency situations. For example, you can use telematics tracking to detect the location and route of any stolen vehicle, thereby simplifying the vehicle recovery process. In addition, various forms of telematics software allow you to implement advanced security features in each vehicle, such as requiring the driver to enter a password before driving to completely reduce the risk of theft. In addition to preventing theft, telematics software can also help drivers quickly alert relevant authorities and share their exact location in the event of an accident on the road.
Ensure vehicle maintenance----Telematics software can detect a wide range of vehicle faults or maintenance issues, such as engine problems or diagnostic problems. In addition, the telematics software can be programmed to notify the driver of daily maintenance requirements, such as oil changes or tire pressure checks. Many employers combine telematics with preventive maintenance plans to simplify the maintenance of their fleet.
Reduce management costs----Telematics allows employers to digitize records that would otherwise have to be maintained manually, which can be a time-consuming process. Specifically, through telematics, employers can generate reports on expenses, driver performance, maintenance, and fuel costs, thereby simplifying the company's record keeping practices as a whole.